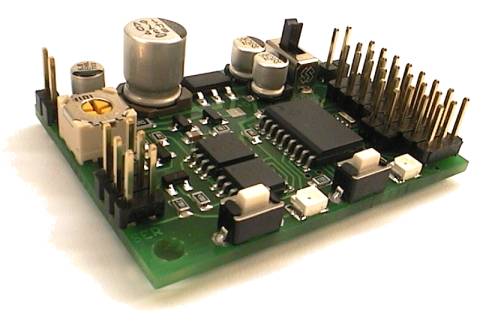 TalkBot Brain - IS NOW ON SALE!

This miniature robot controller "brain" features a PIC microcontroller and 1 Megabit of eeprom sound storage. It can control 8 servos and play up to 256 sounds, so this tiny PCB (45 x 34mm) can act as a complete talking robot brain.

TalkBot Brain comes fully assembled with surface mount ICs, and is already programmed with "slave" software. The slave software accepts 2-byte serial commands using just one PIC pin to control 8 servos and play sounds. You just need to attach a DC power source (5v to 15v) and a speaker.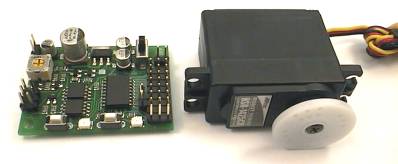 TalkBot Brain has open-source PIC software, all the PIC source code is provided in C. You can use it straight out of the box to add speech and extra servos to your existing robot, or reprogram the PIC yourself so that TalkBot Brain becomes a stand-alone controller for a small simple robot or other device.


Make your robot talk!

We provide free easy to use Windows software that enables you to take sounds from any wave (.WAV) files, join the sounds into one handy sound "library" and download the sound library direct into TalkBot Brain. Add speech to a robot or home appliance, build a talking clock, the applications are up to you. You do not need to do any PIC programming to load your own sounds into TalkBot Brain.

TalkBot Brain holds a total of 23.8 seconds of 1.5bit sound, indexed for playback of up to 256 individual sounds, all at a playback rate of 44.1kHz. That is about 50 spoken words!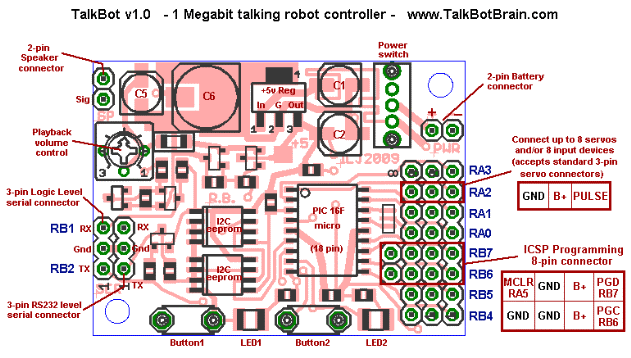 Specs
Tiny size 45 x 34mm
Input voltage range 5v to 15v
Fully assembled and pre-programmed
18-pin PIC, popular 16F series at 20MHz (open source code)
Receives 2-byte serial commands at 19200 baud
Automatically drives 8 servos
1 Megabit (23.8 seconds @ 44.1kHz) of non-volatile sound
Playback up to 256 individual sounds
Free Windows software to make sound libraries
Sound library download/upload via PC serial port
2 buttons, 2 LEDs
Specialty design energy-efficient features;
Low quiescent current low-dropout 5v regulator
Tiny speaker amp uses no power unless playing
RS232 driver uses no power unless downloading
Requires less than 5mA idle, around 20mA playing
Can be programmed for "sleep mode" using even less power
Suitable for talking remote controls
Also check out the TalkBot free resources page!

TalkBot Prices
Order quantity
Pricing per unit
Shipping per unit
1
$17.95
$14.20
<!tr>
3
$15.95
$7.30
10
$12.20
$3.05
1x Accessories KIT
$8.00
Free
(All prices in $USD)

TalkBot Accessories KIT includes; Serial Programming cable, 9v battery clip, small speaker.


Email us to order;





Last updated 5th May 2015